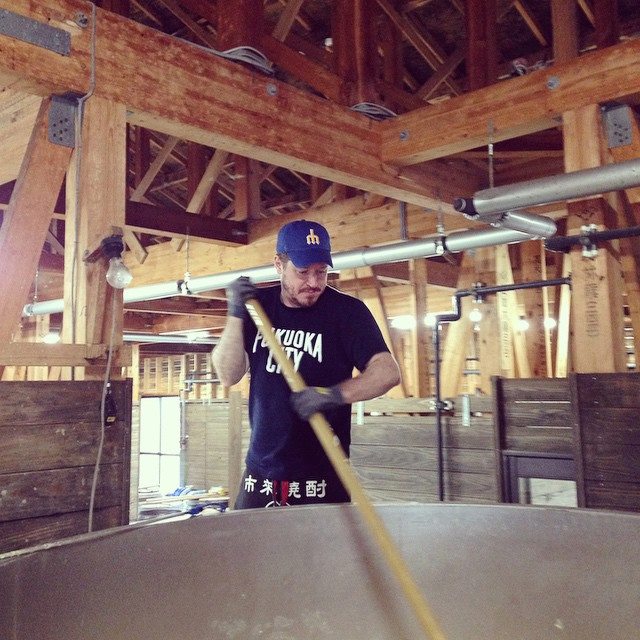 After our episode, A Shochu Lesson with Erik Zmara aired, Stephen Lyman of Kampai.us tweeted us some extra info that we are including here. Follow Stephen and keep learning about this wonderful spirit!
Black sugar is "kokuto" – blocks of dried molasses. Still uses rice koji for 1st fermentation.
Kokuto shochu is from Amamioshima in Kagoshima Prefecture, not Okinawa. Okinawa makes Awamori.
Amamioshima is a cluster of islands between Kagoshima & Okinawa. It's the only place kokuto shochu can be legally made.
If kokuto shochu not made in Amamioshima, it must be labeled and is taxed as rum.
Amami-shochu doesn't have AOC designation from WTO, but does have its own AOC from the Japanese government.
Most barrel aging is oak, but diverse virgin sourcing: American, French, Japanese oak.
Used oak is US whiskey, bourbon, Scotch, Sherry casks, & wine barrels, but as guest said: anything they can find.

Others woods are being explored. I have seen Japanese maple & cherry blossom experiments in progress.

Barrel aging shochu is relatively recent – probably from the early 1960s when whiskey became popular.

Ceramic aging goes back centuries. Many distilleries still make their ferments in clay, as well.
Where to find great shochu lists:
Murasaki Sake Lounge in Chicago
Momiji in Seattle
Aya in NYC
Sakamai Izakaya & Sake Bar in NYC
Ippuku in Berkeley
Daikaya in DC (side note: one of our favorites, too).
Big thanks, to Stephen for contributing to our knowledge base. We hope to talk shochu with him in-person one of these days!
Kampai!
Arthur & Ed