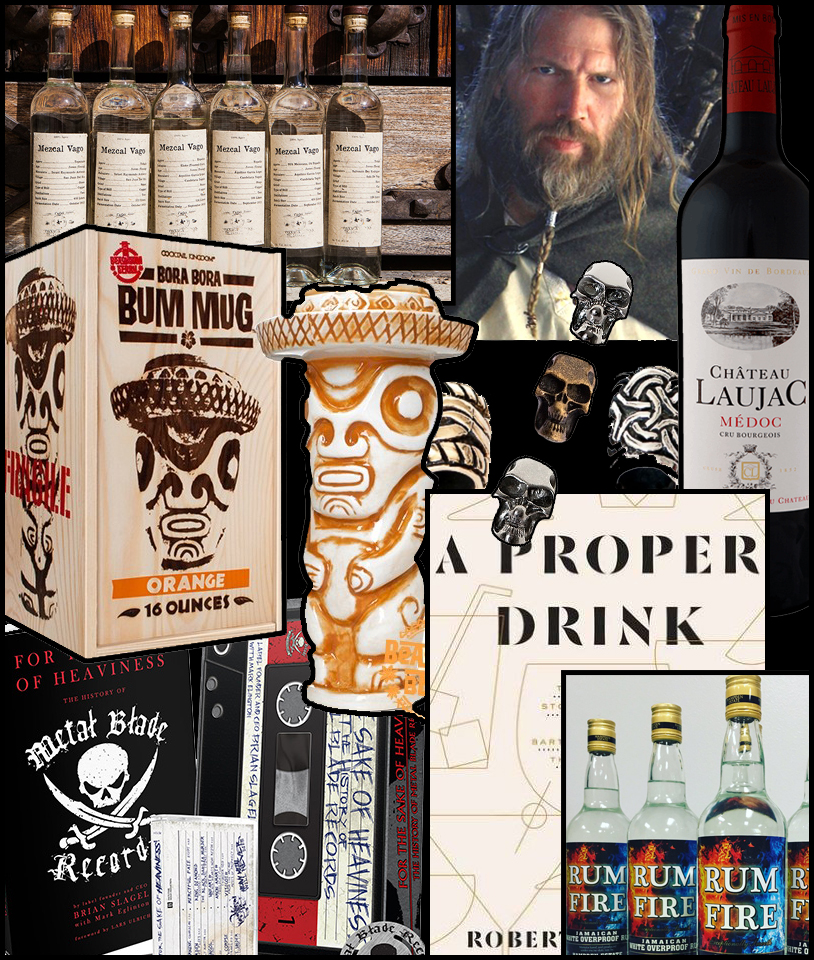 As promised, here is our gift guide for the upcoming holiday season. There have been some great cocktail books come out this year, some beautiful wines & spirits released, and new bar tools introduced. All gifts, of course, are for your friends and family of legal drinking age. Without further ado… our 2017 Holiday Gift Guide.
Ed's Picks
I'm breaking away from my usual "all booze" recommendations and including some things that regular listeners of the show know I'm into. Books, rum, tiki, and metal. The best gift is a thoughtful one. And these recommendations all hold a special place for me. I hope they will for you and yours, as well.
A Proper Drink: The Untold Story of How a Band of Bartenders Saved the Civilized Drinking World

This is a fantastic book that tells the modern history of the craft cocktail revival. We mentioned it in our interview with Brother Cleve, whose career is discussed in the book. It's important to remember that just a few short years ago, you'd be hard-pressed to find a decent cocktail in the United States. This group of fanatics brought us back from the cocktail rut of the 80's and 90's. I recommend this book to everyone with an even passing interest in a decent drink.
Smuggler's Cove: Exotic Cocktails, Rum, and the Cult of Tiki Another fantastic book that is a go-to for anyone wanting to learn more about the Tiki culture. This, along with Beachbum Berry's Potions of the Caribbean will start someone's journey down the rabbit hole.
Rum Fire Funky Jamaican rum full of notes of overripe bananas and grilled pineapple. Take your favorite rum drink (see above) and add a little Rum Fire to the mix for a flavor explosion! Look for Rum Fire where you buy your fine spirits. If you can't find it, tell them to order it for you. It's one of my favorite rum distilleries in the Caribbean. It's inexpensive and will be a great gift for any rum or cocktail lover on your shopping list. Package it with the Smuggler's Cove or Potions of the Caribbean books to become the Holiday Hero!
Beachbum Berry bar tools Okay. I'm cheating here by grouping a ton of cool gifts into a single entry. Cocktail Kingdom has an exclusive line of Beachbum bar tools, tiki mugs, and glassware. The Matte Black Skull Barspoons are fucking beautiful. You can also order the above-mentioned Potions of the Caribbean book here – in English AND Italian!
Grimfrost Viking Beard Rings We've talked about Grimfrost several times on the show. Arthur has some of the heavy duty swords and axes. I opt for the beard rings. I've got several different styles, myself. They're great for those long-bearded fathers, brothers, and beer brewers in your life.
F. Meyer Eau de Vie We hung out with the producers of these beautiful Eau de Vies while we were at the Alsace Wine Fair. After seeing (past guest) Patrick Aledo with us, they handed us two 8oz glasses of their Framboise Eau de Vie. On the nose it's earthy and green and reminded me a lot of Rhum Agricole. If you can get a bottle, do it.
Paranubes Oaxacan Rum We just got to try this recently since it's a new product. It's an earthy, fresh sugar cane rum produced in Mexico and brought to you by Judah Kuper of Mezcal Vago fame. If your friends and/or family are fans of funky sugarcane rhums like Damoiseau, Dillon, St. George, or Chalong Bay, then you've got to get your hands on this bottle. It's incredibly affordable and is excellent in a Ti' Punch. Since it relatively new, it might be trickier to find. So start looking now. Don't procrastinate!
For the Sake of Heaviness: The History of Metal Blade Records

I recently finished Brian Slagel's new book, For the Sake of Heaviness: The History of Metal Blade Records. It's a fascinating story of an accidental music pioneer written by the man himself. Even if you're not a fan of heavy metal, you'll be able to appreciate the incredible stories from Slagel. Even after 35 years operating one of the most important record labels in the business, he is a fan first and foremost.
Arthur's Picks
In making selections for the holidays, I sought to pick items that are relatively available. After all, what's the point of making a recommendation that you can't find – and somewhat reasonably priced?
Segura Viuda Brut Riserva Cava Cava is Spain's less expensive alternative to true Champagne from France. If you're entertaining a lot of guests, don't waste crazy expensive Champagne on large groups. Consider Cava from Spain or perhaps some Italian sparklers. The Brut Riserva is a blend of two traditional Cava grapes, 67% Macabeo and 33% Parallada. It tastes of white fruits, honeycomb, chamomile, as well as brioche and hazelnuts.
Barone Pizzini Animante Franciacorta Brut Probably my favorite sparkling wine outside of Champagne is Franciacorta. Fanciacorta comes from Lombardy in Northern Italy – east of Milan. It's a more complex and regal Italian sparkler than the fun and frothy Prosecco from Veneto. It's a blend of Chardonnay, Pinot Nero and Pinot Bianco. Barone Pizzini's Franciacorta has a nose of Asian pear and citrus, as well as cardamom, toast, buttered pastry and extremely fine bubbles on the palate.
Vago Ensemble en Barro Mezcal This mezcal, bottled by Mezcal Vago, is absolutely one of my favorite mezcals. A master of his craft, Tio Rey produces a spirit with clay amphora stills – much the same way as spirit have been produced for over a thousand years! It tastes of truffles and olives, with bruised fruit, subtle pine, cinnamon and tons of minerality.
Navazos Palazzi Spanish Grain Whisky Bottled at 53.5%, cask strength after being aged in extremely rare Palo Cortado sherry barrels, Navazos Palazzi Spanish Grain Whisky is collaboration between famed sherry bottlers, Equipo Navazos and Nico Palazzi of PM Spirits. A very unique whisky which is extremely smooth despite the higher proof and shows a rich, layered nose of vanilla, dried citrus rind, tobacco, caramel, nougat and more.
Chateau Laujac A modestly priced, classic Cru Bourgeois producer. It's a blend of 60% Cabernet Sauvignon, 35% Merlot and 5% Petite Verdot. Bordeaux is enjoyed throughout the world and is the most widely consumed AOC wine in France. Chateau Laujac shows a nose of dark fruit and currants, subtle tobacco, cigar strip and well integrated baking spices. Traditionally pairs well with holiday foods like duck, beef, venison and various other game.